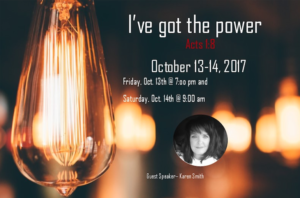 Calling all ladies! Join us here at Encounter Church October 13th & 14th for our annual Women's Conference entitled "I've Got the Power." This is going to be a phenomenal weekend as we ENCOUNTER the Holy Spirit and receive a fresh breath of the Spirit. Our guest speaker is Karen Smith, the president and lead teacher of Kineo Ministry Training Center.
Friday, Oct. 13th @ 7 P.M. and Saturday, Oct. 14th @ 9 A.M.
Registration is $50.
Click the Donate button below to register. Don't forget to include your shirt size in the description.